Both of them, actually. You know, my full time job as
mom
, and my new Scentsy consultant 'job'.
I know, I know. I really try not to talk about it a
whole
lot on here, because I really want to talk more about life and deals and faith and stuff, and not about
business. (errr,
the word even
sounds
bad
)
But,
let's face it, Scentsy is a part of
life
now, and so I'm going to have to talk about it a little. (And only a little, I promise.)
But seriously, I've been surprised how much I'm enjoying it.
Sounds bad, doesn't it? I'll be the first to admit that I was really leery about it going in. What if I get tired of it? What if I don't do it well (it's that whole fear of failure thing, ya know?)? Will I get
comfortable
with it quickly? Etc. Etc. Etc.
And finally, I talked with the hubs, prayed, talked with him again, and jumped in.
I knew I'd made the right decision when I was up at night thinking about incentives and party bookings and smells that I liked and how fun it would be to go through my kit...
Then - my first party booked, happened, and I had the experience of sorting and bagging all of the items. I got to smell the smells and make the bags all cute. And it was fun. Fun, I tell you!
My director, and the company in general, have been enjoyable, encouraging, helpful, and all around wonderful. I've more than made back my start-up fee (a measly $99... can't beat that!), and I've got some more scents, etc for my own home. Ahhh... I like it. :)
That being said, I've gotta put a
little
plug in. Go check out my
Scentsy Site
if you don't know what it is or if you'd like to order! (Click on July 20th order under my picture.) Even if you aren't from around here you can have your order shipped right to you! Or maybe you want to book a party. Great way to get free stuff!!! I can even work with you if you're from far away! Ask me about a basket party! Easy to do miles apart! OR, maybe you want to try selling yourself! I have all kinds of information I can get to you, and I can sign you up myself! Easy peezy! (And my $99 start up fee was
covered in full
after my
first
party!)
Anyway - there's the little plug ;)
As far as me, this is the next warmer on my list of things to buy :)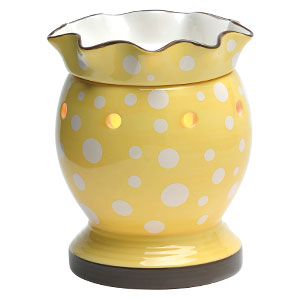 It's called 'Dotty,' and I think it'd look just great in our little girl's room ;)
Seriously, go check it out! ;)
-A